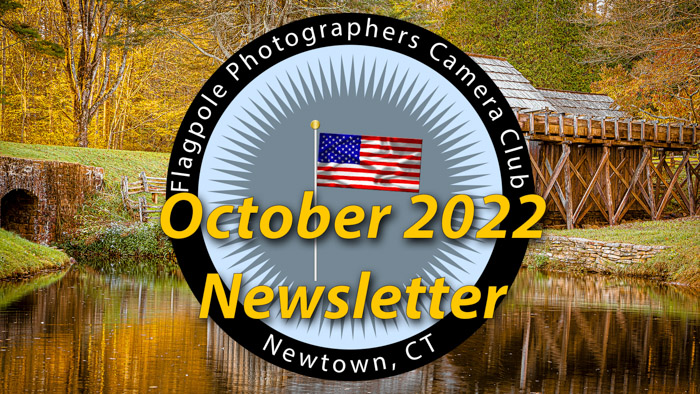 Hi Everyone
We have added several members and our September competition was an exciting high scoring time. The October Monthly Challenge subject this "Moon"! FYI – full moon is a week away on October 9th. You'll find two "moon" articles in the In the news section below.
Upcoming activities
October 6, Thursday at 7:30 pm – online Mentor Night. Mentor Night is about asking questions, sharing knowledge and the fun of learning more about all things related to photography. Anyone can pre-submit questions and members can upload photos before the meeting.
October 13, Thursday at 7:30 pm – Program. Everything You've Always Wanted to Know about Lighting by Erik Landegren. Erik will be live at the Senior Center.

Online option with meeting link on event page and in person option at the Newtown Senior Center

October 27, Thursday at 7:30 pm – Competition. Assigned Subject "From Above or Below" and Monthly Challenge "Moon"

Online option with meeting link on event page and in person option at the Newtown Senior Center
Special Note – 2022 "Newtown & Beyond" Exhibit Member Info
This is an exhibit of the best of our work at the Newtown Municipal Center. Every member may submit photos, matted or mounted, but no frames. If final submissions exceed space and hanging limitations, however, the exhibit committee will select entrants. Photos may be offered for sale if photographer chooses. Details at FlagpolePhotographers.com/exhibits/2022-newtown-beyond-exhibit-member-info.
Now – Choose and prepare your photos! We are putting together the advertising poster and web advertising and need your photographs. Please upload a few of your favorites you will be exhibiting using our upload page.
October 23-27 Titles Due – Before you drop off your photos, email all titles and prices of your photos to Rhonda@CCullens.com for our photographer and price listing sheet that will be available to the public at the Exhibit.
October 23-27 Flexible Drop Off at Rhonda's – Bring your unframed photographs that are either matted or mounted to a firm backing to Rhonda Cullens at 9 Founders Lane, Sandy Hook.
Last drop off is October 27 Drop Off at Competition Night – If you are going to the Senior Center for the in-person competition night, you may give your photos to Sandy.
In the news
A few recent highlights from our Facebook discussions and elsewhere
The Connecticut Association of Photographers (CAP) is looking for volunteers. CAP organizes several field trips a year around Connecticut and an annual competition. Their next field trip is the Danbury Railroad Museum on Oct 29th. FYI CAP membership is free this year (normally $8 a year).