The New England Camera Club Council (NECCC), an umbrella group for over 70 camera clubs, manages a series of interclub competitions. Every year, in the fall, winter and spring, clubs submit 4 photos from 4 different members in 4 categories.
To achieve high overall scores, a club typically needs a broad range of skills distributed across a large number of members. Thus, the NECCC competitions are generally dominated by large camera clubs. Some of these clubs have 3 to 5 times more members than Newtown's Flagpole Photographers Camera Club. However, this year the results were different.
Flagpole Photographers had a stunning finish for a small camera club with 1 first place and 2 second place finishes. "We succeeded in our regional competition because individually we freely share locations, ideas, techniques, equipment and as a club we focus on skills development and helping one another," said Darrell Harrington, president of Flagpole Photographers. "We also maintain a strong competitive spirit that allows us to truly celebrate the accomplishments of our teammates while striving to improve our own photography."
Flagpole Photographers 2017-2018 results in NECCC competition:
Print color photos – 1st place
Print black & white (monochrome) photos – 2nd place (tie)
Digital pictorial photos –

2nd place

Digital nature photos – 6th place (tie)
Competition photos from some of our members:

Color Print of the Year
Doug Bilinski placed second in the NECCC Color Print of the Year with Bald Eagle, Sitka, Alaska! The NECCC Print of the Year is a special competition at the end of the year, where the highest scoring photos year are rejudged to find the best of the best.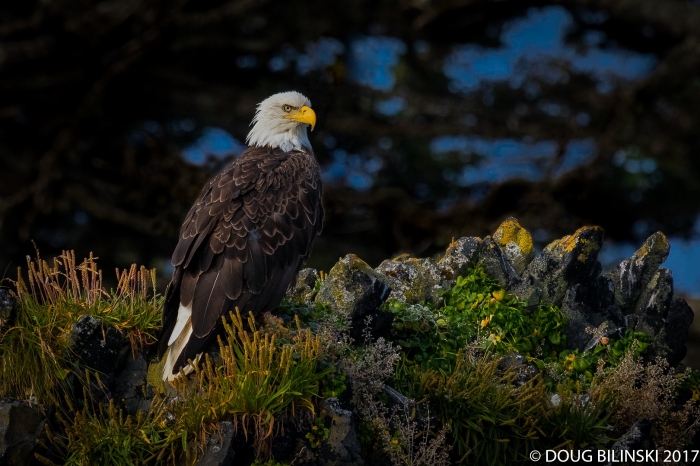 Visit Exhibits to view photos taken by Flagpole Members:
Flagpole Photographers currently has 89 photos displayed in the Olga Knoepke Memorial Room on the first floor of the C.H. Booth Library. The club held their Annual Competition there on May 6 and the photos will remain on exhibit until May 31. See which photos won ribbons and vote for you favorite until May 11 when the People's Choice Award will be announced.
View Flagpole member Hannah Munroe's work on exhibit at Byrd's Books in Bethel now through May 20.
Also, stop by the Newtown Municipal Center through the end of May to see over 250 photos taken by club members Rhonda and Chane Cullens.
Flagpole Photographers Camera Club
Founded in 1985, the Flagpole Photographers' (FlagpolePhotographers.com) mission is to enable members to share their photos and expertise, to learn and grow in their photography, and to enjoy the camaraderie of fellow photographers. We come from diverse backgrounds, with photographic skills ranging from beginners to professional photographers.
New England Camera Club Council (NECCC)
The New England Camera Club Council (NECCC.org) is a non-profit umbrella group for over 70 camera clubs and Meetups in the New England states (Connecticut, Rhode Island, Maine, Massachusetts, New Hampshire, and Vermont). As you browse the site, you'll learn about the extensive three-day photography conference held each July at the University of Massachusetts in Amherst, MA; services to New England member camera clubs; and scholarships the Council awards each year to students so they may further their studies in the field of imaging.