Newtown is one of many libraries that provides free access to an amazing online training site – Lynda.com. Lynda.com normally costs $25 per month, using your library card the cost is $0.00. If you don't have a library card, stop by C. H. Booth Library and pick up one. Go to the main library desk on the second floor, show them your drivers license and 5 minutes later you walk out with a library card.
Examples of content depth:
Becoming a Photographer learning path – 10 courses, 18 hours of video
Lightroom – 105 courses
Photoshop Elements – 17 courses,
Photoshop CC – 1,000 courses
Flash – a 2.5 hour class on Canon speedlites, a 2.5 hour class on Nikon speedlites
Cameras – Canon Rebel SL1, T3i, T4i, T5i, Canon DSLR, Canon 5D, 6D, 7D … likewise for Nikon
Photography – Name a topic, there is a class on it – macro, filters, creative, landscape, mobile, portrait, kids, newborns, night, street, …
Chane's editorial comment >> Huge selection of content. Great online delivery platform. First rate professional content. My favorite class: Adobe Camera Raw Essential Training by Julieanne Kost, This class has shaved minutes off of every photo I edit and allowed me to produce better results. I've used many online training systems over the last decade or two – Lynda.com is the best I've seen. As you watch, the transcript is visible, table of contents allows to you quickly move to the content you want, classes have exercise files allowing you to do exactly what the instructor is doing. Watch. Pause. Do. Rewind. Watch some more, do some more. It's a great learning system.
With a C. H. Booth Library card you are up in running in a few minutes. Here are some helper steps to get started.
---
2. Click on Digital Resources at the top of the page
---
3. Select Computer Instruction (also called Computer Software Tutorials on some pages)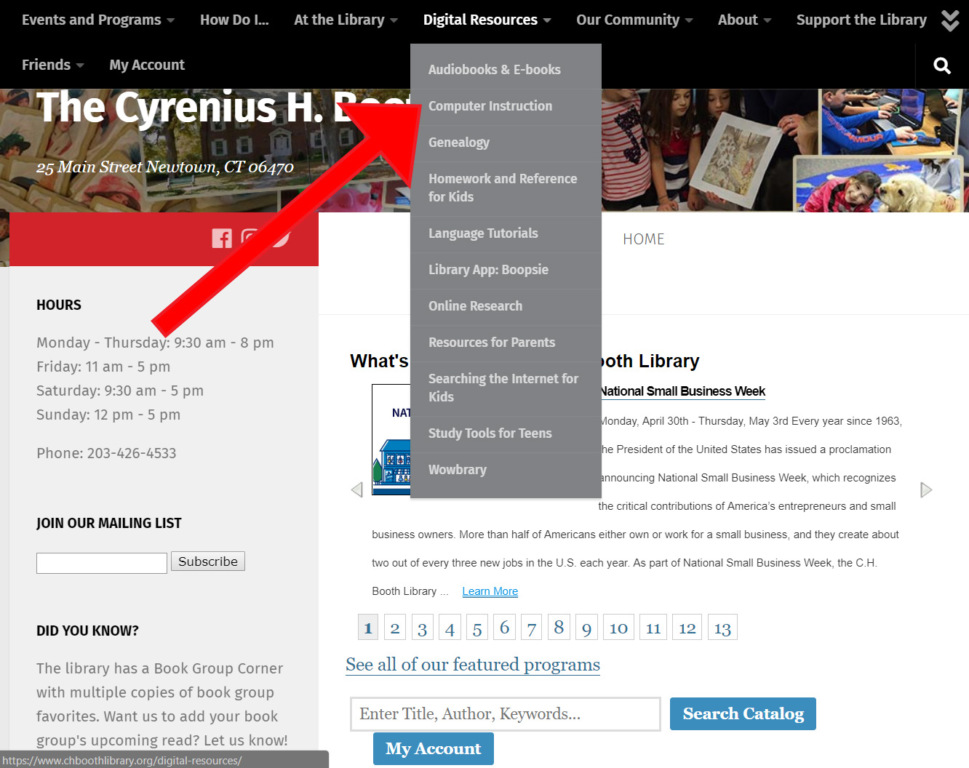 ---
4. Click on Lynda.com link to create your account

---
5. Click "Create a profile", then enter your library card and create a new passord

---
6. Example of a learning path – "Become a Photographer" – an ordered list of courses

---
7. Search for Lightroom – 100+ courses!

---
8. Photoshop Elements – hours of classes on most versions 11, 12, 13, 14 …

---
9. Photoshop has so many classes you have to refine what part you want to learn

---
10. There is information on every photography topic I can think of!