Exhibit
Over 125 photographs taken by Chane and Rhonda Cullens are on exhibit at Walnut Hill Community Church now through September 17. The photos are a collection of a wide variety of subjects taken both in the couples' hometown of Sandy Hook, as well as on the journeys they have taken across the country and around the world. Each photo has also been paired with an inspirational verse from the Bible which has been printed and posted beside the photos.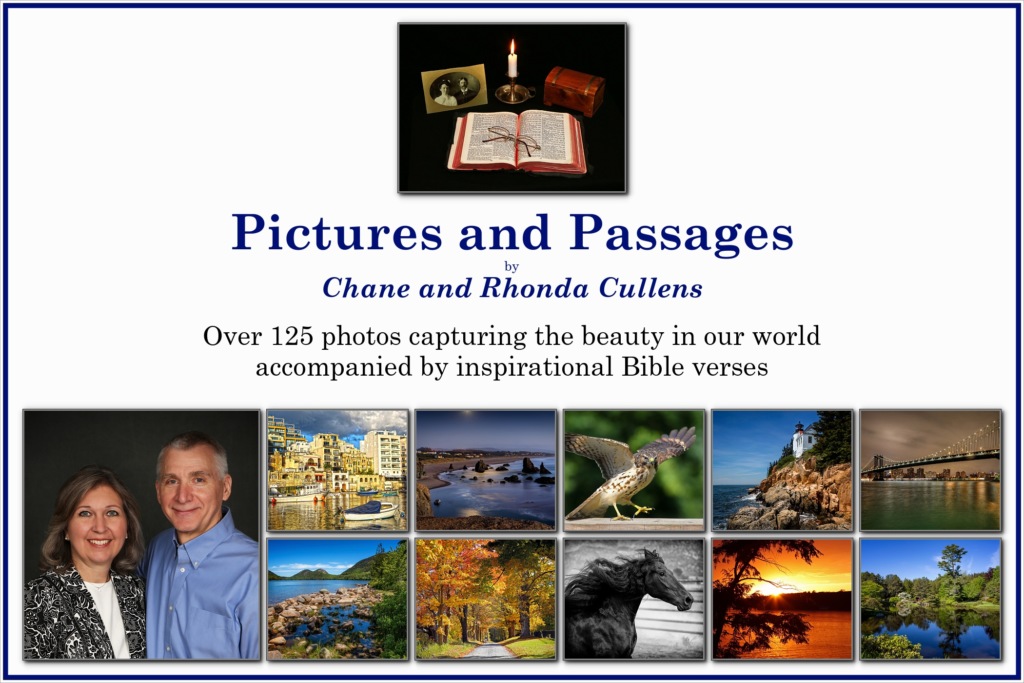 More than a third of the photos might look very familiar to Sandy Hook and Newtown residents. Included in the exhibit are some iconic photos of Newtown from Castle Hill, Fairfield Hills, Holcombe Hill, the Lower Paugussett State Forest, Newtown Village Cemetery, Sandy Hook Center, Church Hill Road, and some Main Street classics of the Newtown General Store, Ram Pasture, and The Pleasance to name a few.
Animal lovers will not be disappointed with this exhibit. On display are a wide variety of birds, lions, sheep, gorillas and squirrels, as well as a cheetah, tiger, deer and kitty. Horse lovers will want to make sure they visit the church's café too. At the center of the back wall is a 30"x40" aluminum photo taken by Chane of his niece's Friesian horse, entitled "Blowing in the Wind." Some might recognize it and some of the other horse photos from the walls of a local Newtown restaurant as well.
Outside of Connecticut, there are featured photos taken in Bar Harbor, Maine, Block Island, Rhode Island, New York City, Yosemite National Park, Zion National Park, Mount Rainier National Park, Yellowstone National Park, Grand Teton National Park, and locations in Californi, Oregon, Nevada, Massachusetts, and Texas. For the world travelers, some of the other photos were taken in Canada, Ireland, Italy, Malta, South Africa, Australia, and New Zealand.
Last fall, Rhonda was asked if some of her photos could be used on the church's social media page to go along with verses that were going to be posted. That inspired her to start posting a daily photo with a Bible quote on it on her own social media page as well. Many of the photos in this exhibit have already been featured in her daily posts. She has heard from many of her friends and social media followers that they look forward to starting their day by seeing the photos with the inspirational messages on them.
The photographs in this exhibit are available for purchase, with or without verses printed on the photos themselves. To purchase photos seen at the exhibit, email Info@CCullens.com with the photo numbers in the lower left of the verse cards paired with the photos and your contact information, or call 203-512-8058. Or, to view and purchase them online, visit CCullens.com/WHCC. Arrangements will be made for photo pick up. A portion of the proceeds will be donated to the ongoing ministries of Walnut Hill Community Church.
Viewing the Exhibit
The public is invited to view the exhibit at 156 Walnut Hill Road, Bethel, Mondays-Thursdays 9:00-5:00, Fridays 9:00-3:00 and Sundays 8:00-1:00. If it is not during a regular service time, please check in at the front reception desk. The public is also welcome to attend an Artist Reception on Sunday, July 23, from 12:30-2:00 pm where light refreshments will be served.
Background
Chane and Rhonda Cullens both share a passion for photography and enjoy the adventure of capturing our world together.
Rhonda received her first camera when she was 7-years-old and followed her father and grandfather's love of photography. She took photography classes in high school and at Oregon State University where she met her future husband, Chane. While they were dating, Chane bought his first camera which was the first auto-focus SRL Canon camera made, a Canon EOS 650. They continued capturing the events in their married life with Canon cameras, including all of the activities of their two sons. Both boys were very active in sports growing up, so Chane and Rhonda found themselves becoming known as the "sports photographers" for their soccer, track, lacrosse etc. teams.
Now that the boys have graduated, their photography has expanded to other areas including more travel and competition photography. Both are very involved board members of the Flagpole Photographers Camera Club based in Newtown and have given presentations to groups on photography. Rhonda has recently been chosen as a Master Member of the New England Camera Club Council and one of Chane's photos of Newtown was presented to the Governor of Connecticut by a delegation from Newtown. They have both won many awards for their photos in various competitions including having photos selected this year for the Connecticut Association of Photographers 100 TOPS in Connecticut competition.
To view additional photos of theirs, visit ccullens.com