The Flagpole Photographers Camera Club is pleased to announce their 2017 Annual Competition and Exhibit. It will run from May 1-31 at the C.H. Booth Library located at 25 Main Street, Newtown, CT.
An Opening Reception will be held on Sunday, May 7, from 2:00 pm to 4:00 pm in the Olga Knoepke Memorial Room at the library and the public is welcome!
Many wonderful photographs by local artists will be on display, so please stop by to view the "best of the best".
Click to download this poster share with your friends and family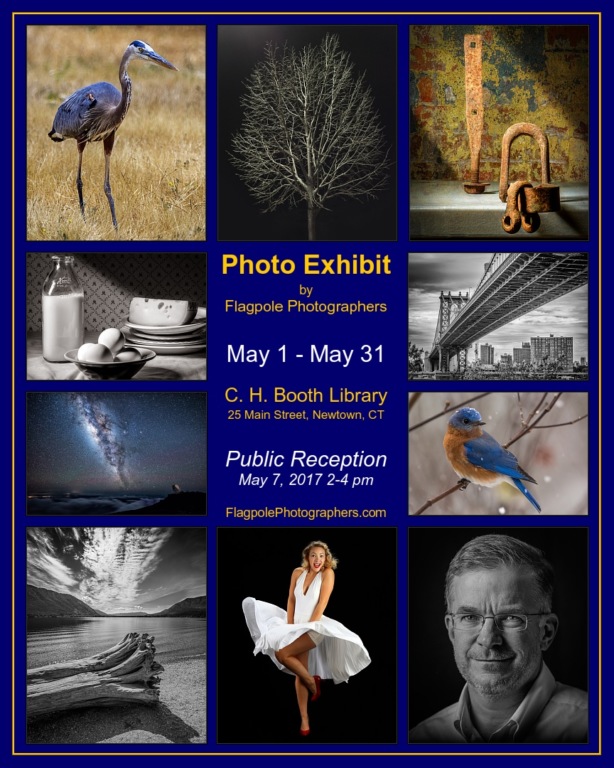 The Opening Reception will allow visitors to meet the photographers and hear the stories behind their images. Enjoy complementary food and beverages while viewing each print. All visitors can participate in the festivities by voting for their favorite photograph up until Friday, May 12. The winner of this vote will be presented with the "People's Choice Award". Following the Opening Reception, all prints will remain on display until May 31.
Flagpole Photographers is a local non-profit group that enables members to share their images and expertise, to learn and grow in their photography, and enjoy the camaraderie of fellow photographers. We come from diverse backgrounds, with photographic skills ranging from beginning novices to professional photographers. Our season runs annually September through June meeting at the Newtown Senior Center. We hold monthly competitions and monthly hands on learning programs. All dates, assigned subjects, and programs are included in the schedule on our website calendar. Every Spring, we hold our Annual Competition and Exhibit at the library, where Photographs of the Year Awards are designated.
Photographs will be on display at the C. H. Booth Library from May 1 – 31. The exhibit is open during regular library hours: Mon-Thr 9:30-8, Fri 11-5, Sat 9:30-5 and Sun 12-5.
Please vote for the "People's Choice" award at the Sunday, May 7, Opening Reception or through Friday, May 12.
On May 7 regional judges will award the following:
Judges' Best in Show
Dave Kriger Nature Award – which will be placed on permanent display at the library
Jeannette Talarino Flower Award
Bruce Allen Open Print Award
First, Second, Third place and Honorable Mention in the "Color" category
First, Second, Third place and Honorable Mention in the "Monochrome" category
People's Choice Award (as voted by visitors)
View the 2016 winning images by clicking here!
Flagpole Photographers Annual Competition and Exhibit – Photo by Rhonda Cullens