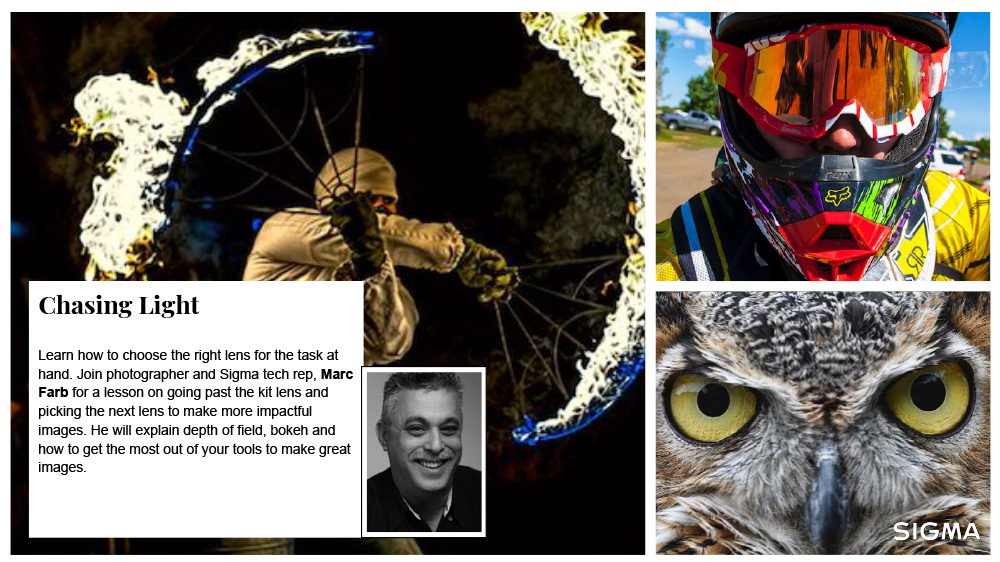 Chasing Light by Mark Farb
Visitors are welcome to attend this free learning program.
Attend from anywhere. This is a virtual event.
This join button only works on the day of the meeting.
Learn how to choose the right lens for the task at hand. Join photographer and Sigma tech rep, Marc Farb for a lesson on going past the kit lens and picking the next lens to make more impactful photos. The Chasing Light presentation is much more than just lens selection. It's an opportunity to revisit photography fundamentals that many people either forget about or misunderstand. This includes depth of field, aka depth of focus, the infamous bokeh and how you don't have to have an F1.2 lens to create an out of focus background. And talking about focal length and angle of view and so many more topics. Regardless of skill level this is definitely a session worth attending and even revisiting from time to time.
For Marc, photography is more than just a job, or a way to earn a steady income, it's a way of life. Even more, it's the chance to capture special moments in time and show them off to the world in a way they may never get to see them. It's his job to preserve a moment in time and evoke a reaction from people who view his images.

Marc's father was a Type Setter in the printing industry way back at the cross over point from lead type to negative film. So there was never a shortage of film in the house. He was given his first camera at the age of 8 years old and by the time he was 14 he had his own darkroom.

He attended the College of Boca Raton in the mid 80's where he studied Electrical engineering as a major with a minor in computer science. Being that the school was only a few miles from an IBM facility, most of his professors were also involved in projects that would later impact the photo industry in major ways.

Fast forward 25 years, and Marc eventually became a freelance commercial photographer. From there, he took a Tech Rep position with Olympus Imaging in for the first stop in his career in the photo industry. Since then he has worked with such companies as Xrite, Ilford, Mamiya, Prophoto, and Sekonic. Marc continues to do freelance work as well and one of his clients is a major hospital system in NY city area. His work for them has included a variety of assignments for them…from publicity portraits of patients and corporate events. He is also experienced in medical and surgical photography.

Currently Marc's assignment includes technical application support from the corporate office, as well as extensive traveling for photo conventions and trade shows for Sigma. He is proficient in Photoshop and Lightroom on a PC and Mac.

His experiences over the years have allowed him to teach classes all around the US and Canada on photographic topics that range from pixel to print, and all points between.

Marc lives on Long Island with his wife and two lovely daughters.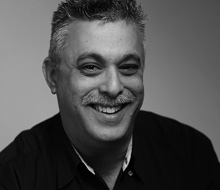 7:15 – Social time
7:30 – Meeting starts
1. It is always good to have a camera and lenses nearby.