In the first annual "Oxpole" 1-1 Digital Interclub Competition held Wednesday, July 12, 2017 at Oxford Greens, Flagpole Photographers walked away with the top honors. Judge Tom Peterson, president of the Heritage Village Camera Club, said "there were 50 great photos in this competition and in some cases there was only a fraction of a point difference between the two photos." In the final tally, Flagpole Photographers Camera Club received the winning nod 16 times compared to the Camera Club of Oxford Greens' 9 category wins.
Twenty-five categories had been agreed to between the two camera clubs and then each club selected one photo to represent their club in every category match-up. All photos had to have been taken by a club member and no member could have more than three photos in the final competition.
Over 60 people were present to watch the competition and cheer for their favorite photo and team. Following the competition, the attendees were treated to pizza and salad.
While Flagpole was the first club to take home the newly designed trophy, Oxford Greens vowed they will be back even stronger next year!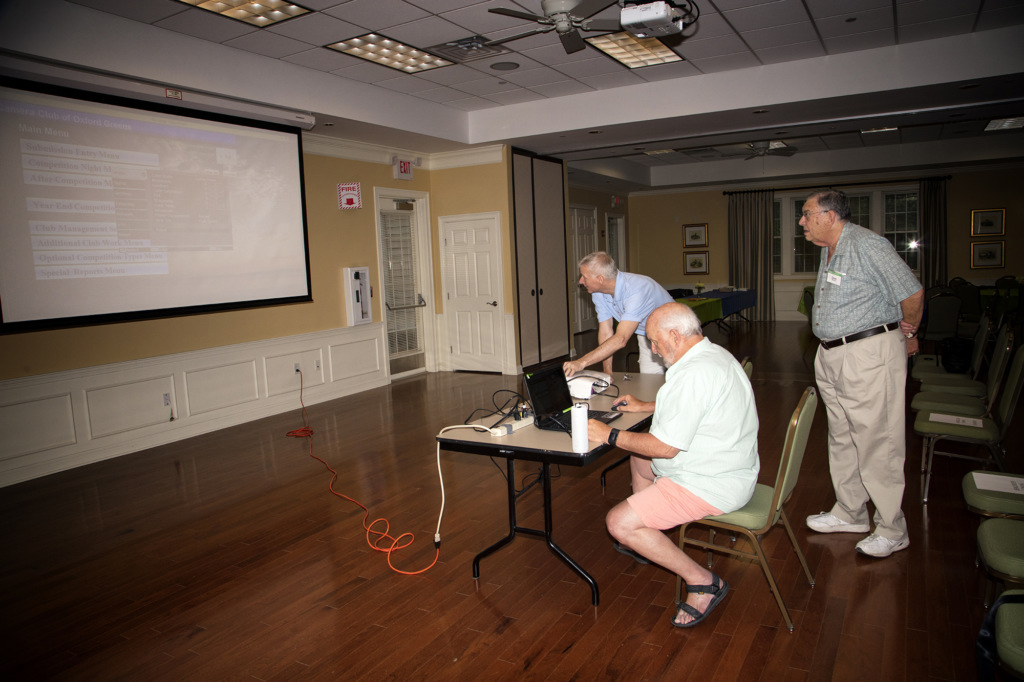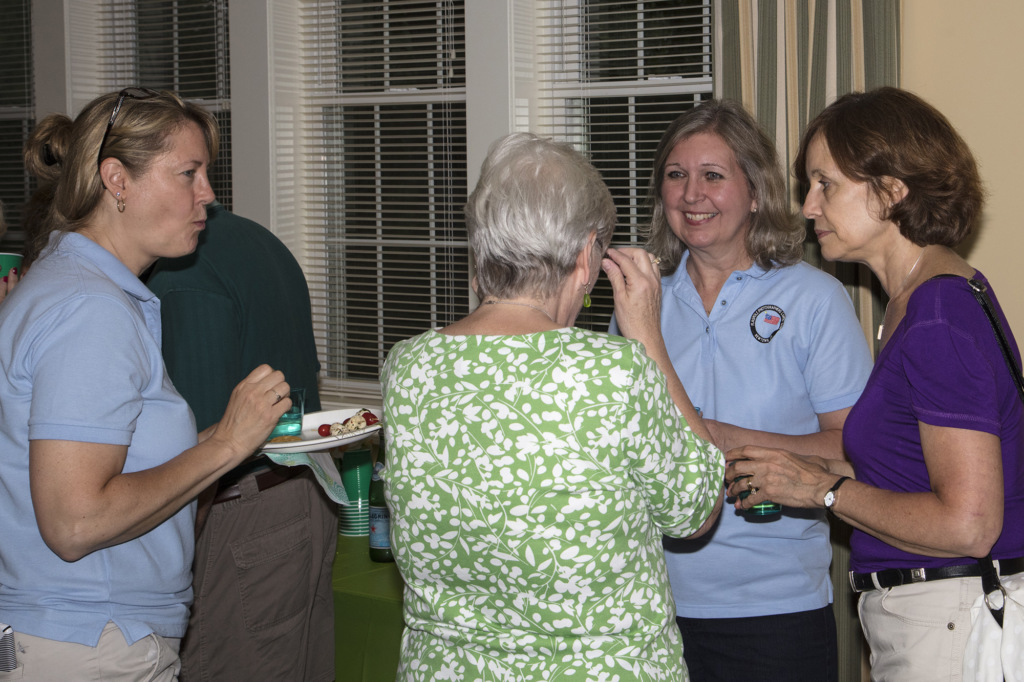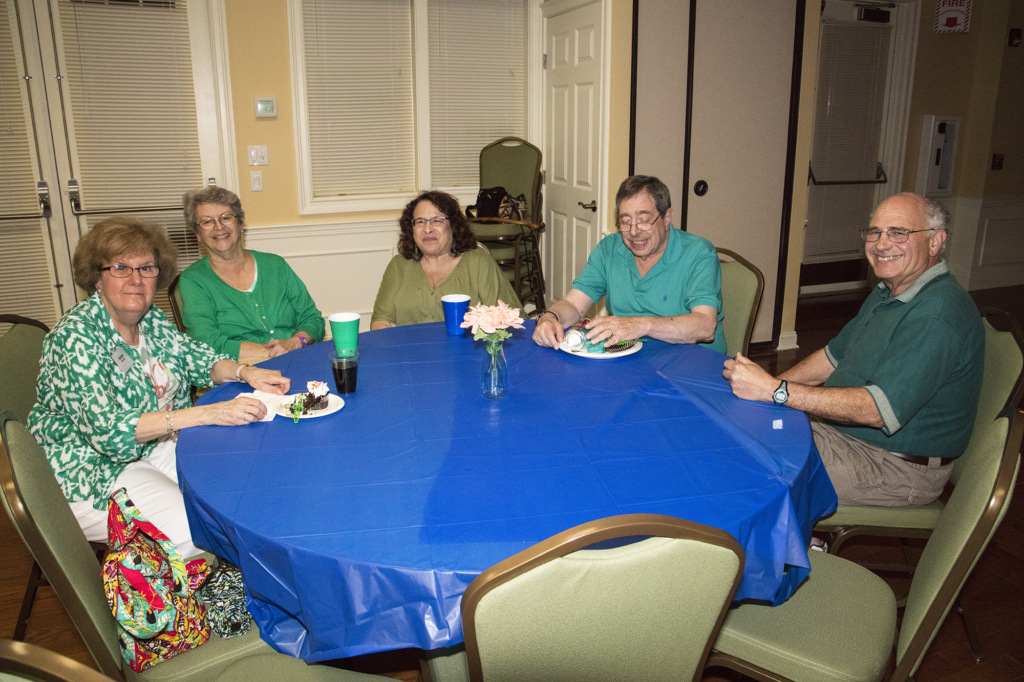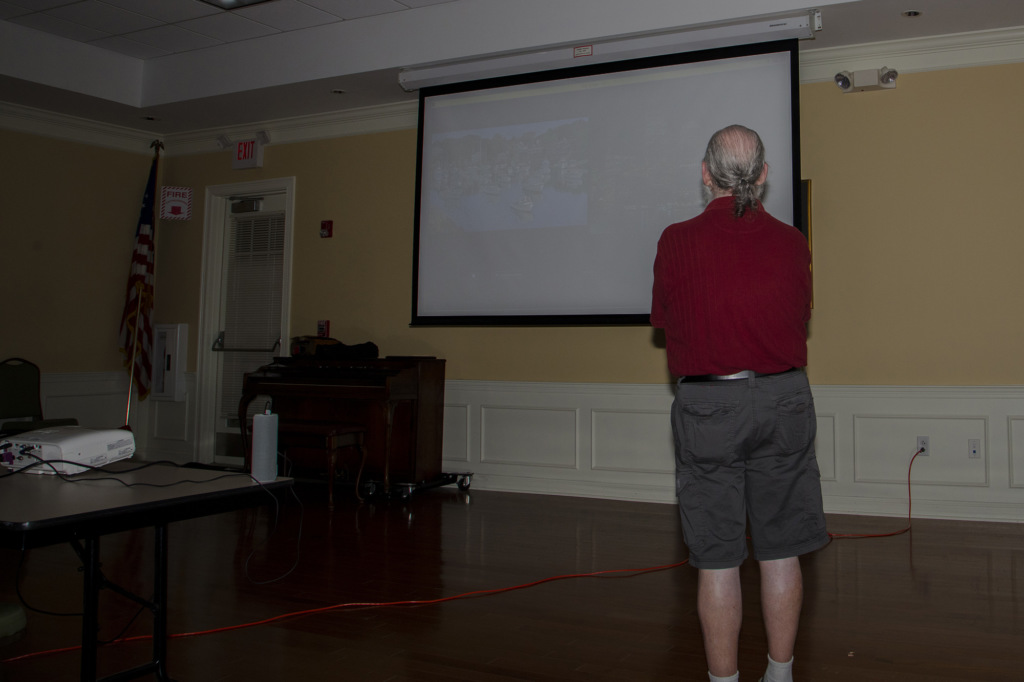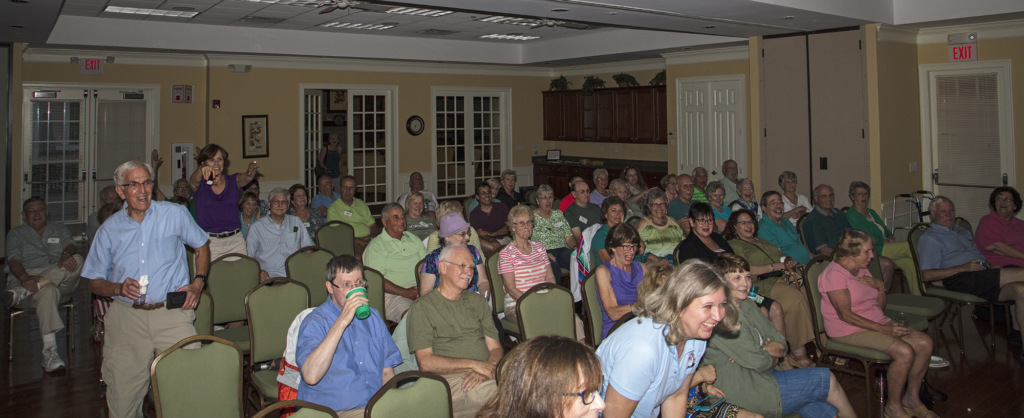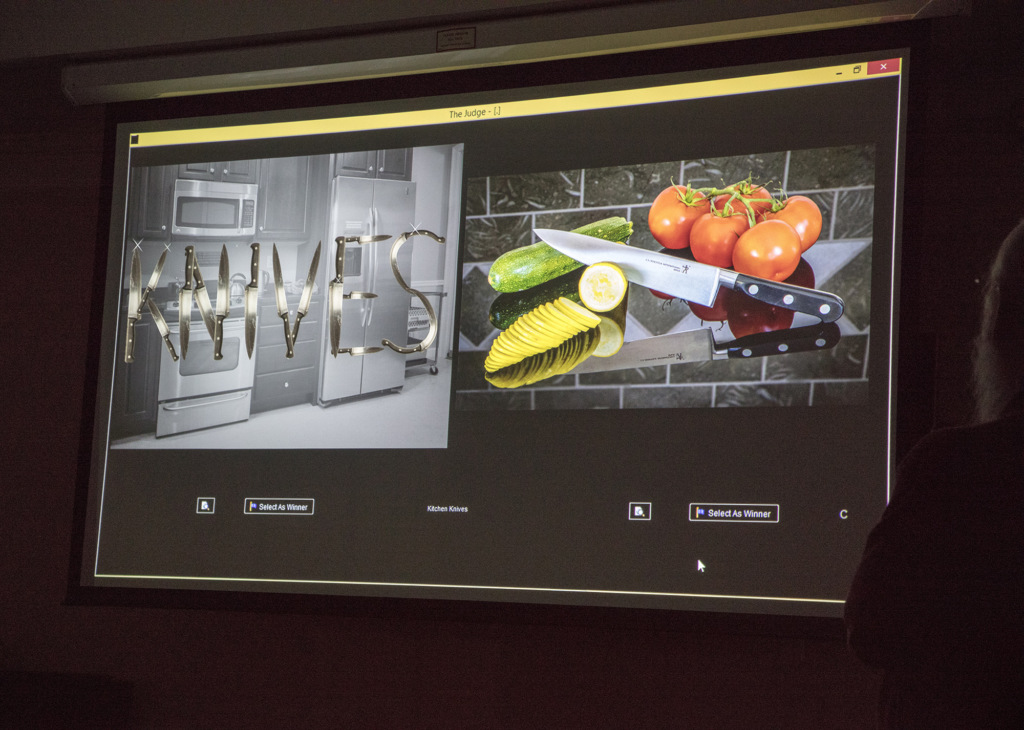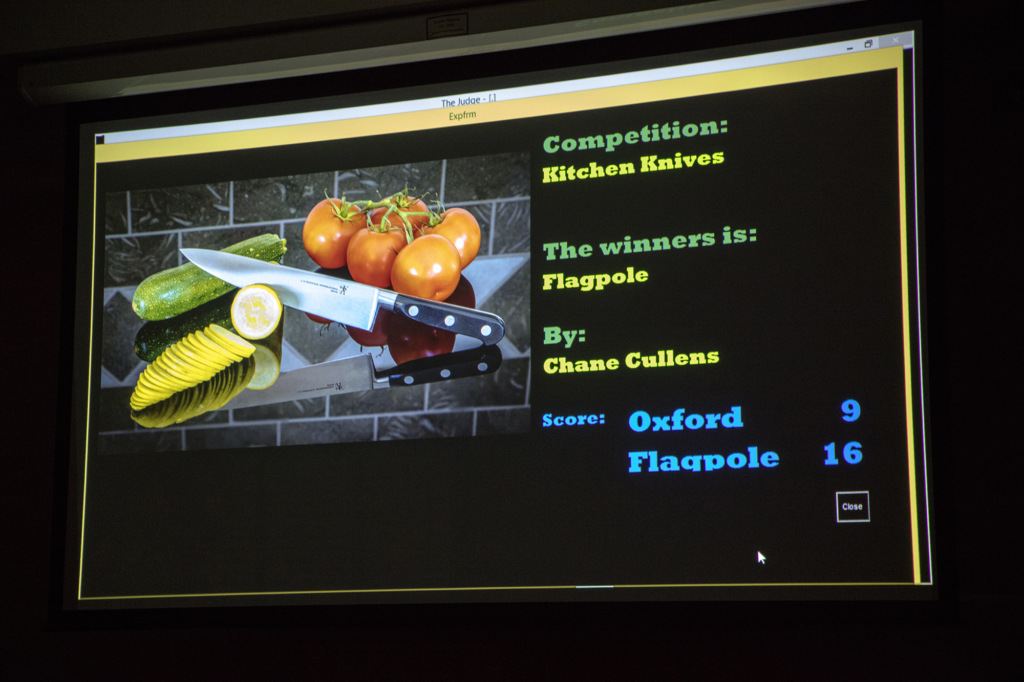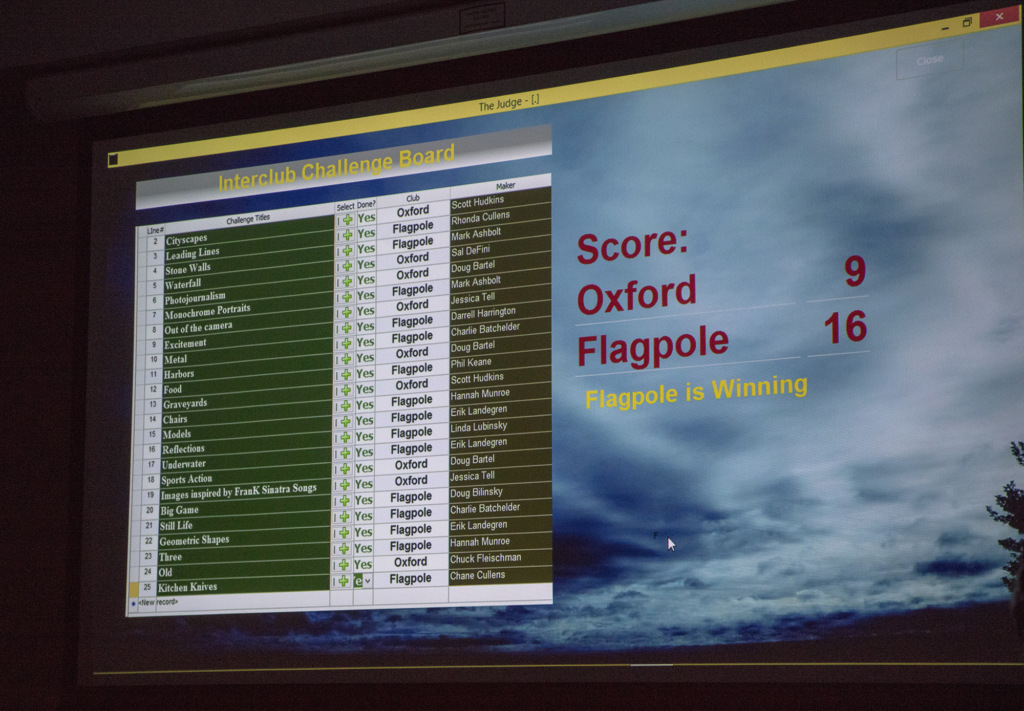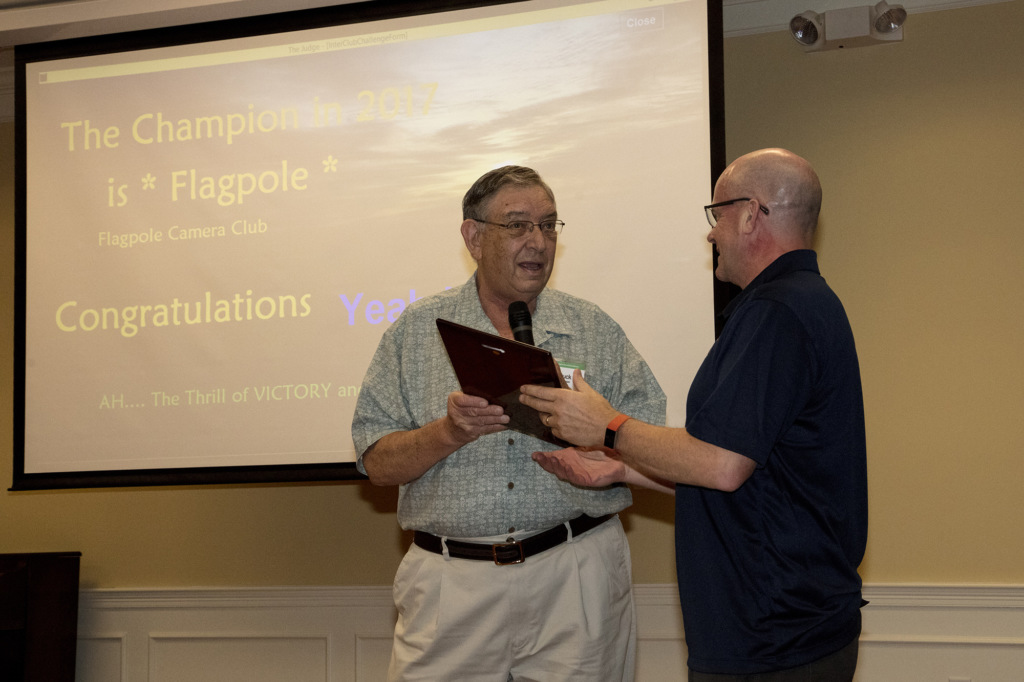 Photos above by: Chane and Rhonda Cullens
Congratulations to the 25 category winners from Flagpole that represented our club vs. Oxford
Big Game
Doug Bilinski
Elk on Alpine Tundra
(Also won vs. Oxford)
Chairs
Hannah Munroe


Don'

t Let Anything Stand in Your Way and Do It with Style
(Also won vs. Oxford)

Cityscapes
Charlie Batchelder
Brooklyn View
Excitement
Darrell Harrington
Weeeeeeeeee
(Also won vs. Oxford)
Food
Phil Keane
Somebody hand me a spoon…please
(Also won vs. Oxford)
Geometric Shapes
Erik Landegren
Newtons Cradle
(Also won vs. Oxford)
Graveyards
Rhonda Cullens
The Resting Place
Harbors
Chane Cullens
Boston
Inspired by Frank Sinatra Songs
Darrell Harrington
New York New York
Kitchen Knife
Chane Cullens
Slicing Vegetables Reflection
(Also won vs. Oxford)
Leading Lines
Rhonda Cullens
Roll Out the Barrel
(Also won vs. Oxford)
Metal
Charlie Batchelder
Three Pieces of Iron
(Also won vs. Oxford)
Models
Erik Landegren
The Artist
(Also won vs. Oxford)
Monochrome Portraits
Mark Ashbolt
Rick
(Also won vs. Oxford)
Night Sky
Darrell Harrington
Stars Above the Clouds
(Also won vs. Oxford)
Old
Mark Ashbolt
Old
Out of the Camera
Sue Bonacci
Sarasota Ibis
Photojournalism
Jonathan Gordon
Mandalay Begging Child
Reflections
Linda Lubinsky
Amaryllis
(Also won vs. Oxford)
Sports Action
Rhonda Cullens
The Kayaker
Still Life
Charlie Batchelder
Oreos and Milk
(Also won vs. Oxford)
Stone Walls
Mark Ashbolt
Stone Wall
(Also won vs. Oxford)
Three
Hannah Munroe
Three Girls Interconnected and Independent
(Also won vs. Oxford)
Underwater
Erik Landegren
Portrait Under the Surface
(Also won vs. Oxford)
Waterfall
Jonathan Gordon
Svartfoss Waterfall
[ngg_images source="galleries" container_ids="146″ display_type="photocrati-nextgen_pro_blog_gallery" override_image_settings="0″ image_quality="100″ image_crop="0″ image_watermark="0″ image_display_size="700″ image_max_height="700″ spacing="5″ border_size="3″ border_color="#999999″ display_captions="0″ caption_location="below" display_type_view="default" ngg_triggers_display="never" ngg_proofing_display="0″ captions_enabled="0″ captions_display_sharing="1″ captions_display_title="1″ captions_display_description="1″ captions_animation="slideup" order_by="filename" order_direction="ASC" returns="included" maximum_entity_count="500″]