Capturing and Editing Rules
The competition rules apply to all photos you enter, and they are mostly independent of the category rules. However, you need to understand both sets of rules in order to ensure that your photos are eligible to be entered into the competition.
Photos must be captured by the member entering them into the competition using a light-sensitive device, such as a camera (digital or film), phone, or other device with a camera lens.
Composite photos are permitted if all elements used are the member's original work.
Photos may be edited by the member entering them into the competition. No other person may edit the photos.
The member's name may not be visible in the photo.
Photos must be no older than 3 years.
Award-winning photos (first, second, or third place) from monthly competitions cannot be re-entered in subsequent monthly contests. However, they remain eligible for the club's annual competition.
Category Descriptions and Rules
Assigned Subject – The subject must be represented in the photo in some way. The photo may be in color or monochrome.
Monthly Challenge – The same as Assigned Subject, except the photo must be taken after the subject is announced.
Open Color – Any subject is allowed. The photo must contain more than one color tone.
Open Monochrome – Any subject is allowed. A photo is considered monochrome if it is either grayscale or has been toned in one color throughout. A photo is not considered monochrome if it has been modified by partial toning, multi-toning, or spot coloring.
Creative – A fresh expression of a scene is a new and unique way of seeing and capturing a moment. It can convey an idea or message in a way that is both visually striking and thought-provoking.
Landscape, Cityscape, Waterscapes – Focuses on capturing the natural beauty of the world around us. The photos frequently capture sweeping vistas.
Nature – Should appear to meet Photographic Society of America (PSA) nature requirements.

Nature photography captures the natural world, both animate and inanimate. Photos must be honest and with minimal editing. Human-made objects are allowed only if they are necessary to the story. Photographs of hybrid plants, cultivated plants, feral animals, domesticated animals, and mounted or preserved specimens are not allowed. The welfare of living creatures is more important than any photograph.

For more details see these PSA documents:
Class Distinctions
The Open Color and Open Monochrome categories allow members to choose whether to enter their photos in Class A or Class B. However, members are not allowed to enter a photo in both Class A and Class B for the same competition.
Class A – Advanced. This is a category for more experienced photographers.
Class B – Basic. This is a category for photographers who are developing their skills.
Digital Competitions
A maximum of one photo per category is allowed.
Each entry must be submitted using our digital submission process. The Upload Help page provides details on file formats and sizes.
The digital submission process controls the resolution of the photo. Our digital competition system currently supports HDTV 1K resolution, which is a maximum width of 1920 pixels and a maximum height of 1080 pixels. All aspect ratios are supported. Your entries may be landscape, portrait, square, panorama, or whatever works best for your photo. Large photos are automatically resized to fit within 1920 x 1080 resolution. The aspect ratio will be preserved.
Printed Competitions
A maximum of one photo per category is allowed.
Have a club label affixed in the upper left corner on the back of the photo. Printable labels are available here: Competition Print Labels.
Be either matted or mounted. No frames. No loose photos.
Have a maximum overall size of 16″ x 20″.
If mounted, the minimum one side dimension of the photo is 10″. For example, a 10×10 photo mounted on foam core.
If matted, the minimum one side exposed dimension is 9.5″.
Annual Competition and Exhibit
Each spring, the club holds an annual exhibition and competition with different entry rules than regular meeting competitions. These differences include:
A maximum of six photos per photographer, with no more than three in any category.
There are typically five categories: Creative, Landscape, Nature, Open Color, and Open Monochrome.
Award-winning photos (first, second, or third place) from monthly competitions may be entered.
The following awards are given by a team of outside judges. A photo cannot receive more than one award from the judges.
Best in Show – The most outstanding photo.
First, second, or third place – For each category.
Judges' Choice – Each judge awards their favorite photo that did not receive any other ribbon.
People's Choice Award – Members vote for their favorite photo. This photo may also receive an award from the judges.
Examples
Using AI tools where you use text to describe new objects in your photos is not allowed. In the photo below, Photoshop version 25 (beta) was asked to create the three balloons using this prompt: "Exactly three very high detail hot air balloons with red, white and blue designs".
Not allowed example – since the balloons were created by AI using a text description.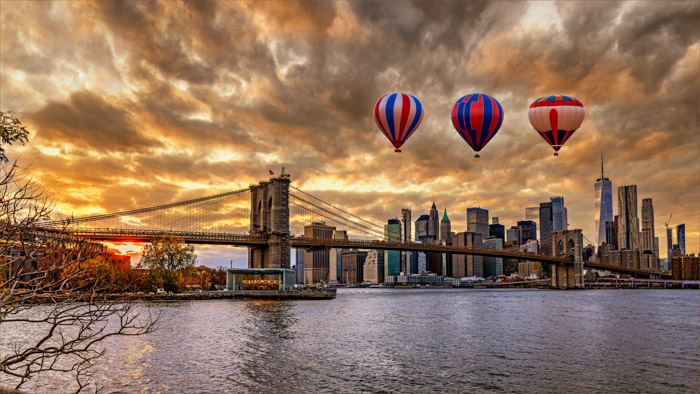 Allowed example – since the balloons were capture by the photographer and composited into the photo.